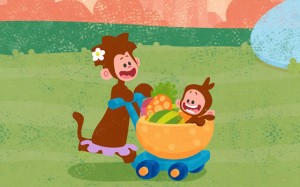 We're so excited! And we just can't hide it! Our first original IP project has begun to go live on the CBeebies website! Over the coming weeks until October, no less than 10 desktop and mobile games will go live, all featuring the adorable Tee and Mo.  With a Tee and Mo 'Take-Over' happening across CBeebies home page during the month of August – you'll be hearing a lot about these monkeys in the coming months!
Aimed at 2-4 year olds and their caregivers, Tee and Mo revolves around the daily adventures of an adorable and unstoppable baby monkey, Tee, and his first-time mum, Mo. The goal is to explore everyday situations through the point of view of the bond between young children and their parents/caregivers, and how they both learn to be kids and parents by facing the challenges of daily life together.  In this way, the brand targets a dual audience: just as Tee and Mo work together to solve the small everyday problems they encounter through creativity and imaginative play, the games have all been conceived for parent and child to play together (though little ones will manage on their own fine too!).
We are delighted to have the role of the narrator voiced by BBC Radio 6 presenter Lauren Laverne – who (as a mum herself), was thoroughly enthusiastic about the project and the opportunity to work with CBeebies.  Her gentle tones and light-hearted humour really breathes that extra special something into the games!
Not only will there be 10 desktop and mobile games on the CBeebies website but we've also been given promotional slots on CBeebies television channel and have had great fun exploring the world of Tee and Mo via a series of 10 x 1 minute animated shorts.  The films will TX on the channel from the 19th August onwards but you can also see them on the Tee and Mo brand pagehere.
The project was the brain child of our Creative Director, Dominic Minns and this blog from CBeebies Grown-ups tells you all about his inspiration.
We're really grateful to the team at CBeebies to be have been given this exciting commission.
As more and more kids brands begin their life on digital platforms, we're hoping to springboard Tee and Mo onto television in the new future.  Development has started on a 52 x 5′ 2D animated TV series and Juliet and Dom will be meeting potential production partners at Mip Junior in the Autumn.
You can expect to see a lot of Tee and Mo across the social web also.  Please like them on their own Facebook page and you can follow their adventures on Twitter: @teeandmo
Stay tuned for more Tee and Mo games coming soon; keep an eye on CBeebies channel for the beautiful animated shorts, and keep watching to see the CBeebies presenters joined by Tee and Mo plush characters!